Post by solderdude on Aug 13, 2014 16:59:45 GMT
A family member asked me to search for a cheap, reliable, small, lightweight, easy to take along, MP3 player with an easy to use GUI and good sound quality that plays for quite some time on a single charge.
I ended up with the Sansa Clip Sport.
The GUI is not the simplest but with properly tagged files (mine are) it works O.K.
As my 'high quality' player I use a FiiO X3 and always found the sonic differences (when not playing very loud) were small compared to the Sansa Fuze I also have.
On direct comparison (same song, about the same volume) when plugging a headphone between them I noticed the clip sounded noticeably different from the X3.
The cymbals etc. lacked definition and presence and the sound was less refined.
It seems to be focussed more on the midrange and appeared rolled-off in the upper treble.
Having read some reviews stating it has lesser sonic qualities than the clip I was curious how it measured.
left plots/data = Sansa Clip Sport < ~~~~~~~~~~~~~~~~~~ > Right plots/data = FiiO X3
Hmmm. no roll-off in the frequency range... in fact the Sansa is even slightly better.
What do the generated specs have to say.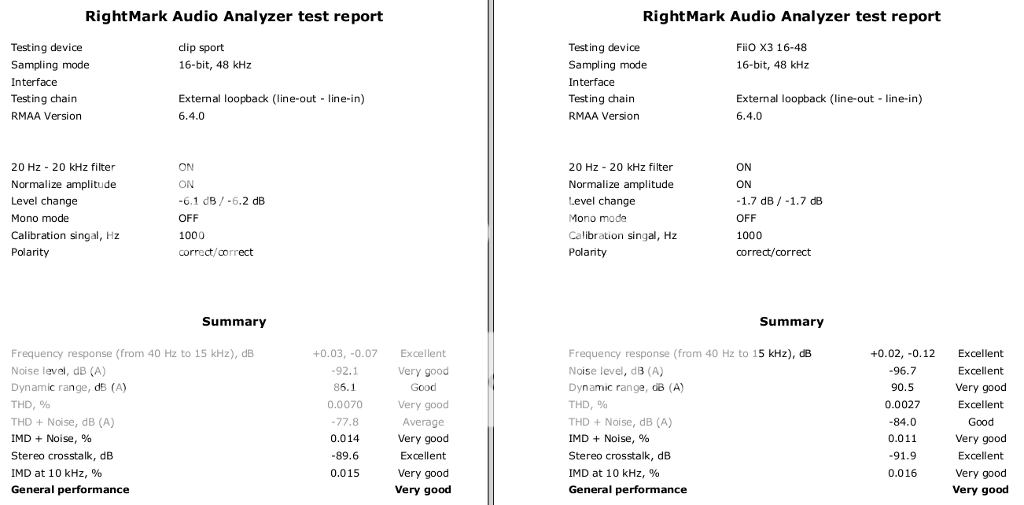 Ah ... The FiiO X3 seems to be the better player after all.
THD looks different.
What's most interesting in these plots is the base near the noise floor which widens in the Sansa.
This points toward low frequency jitter.
Also the Sansa seems to generate more harmonics and slightly higher in amplitude.
SOME of the higher frequency spikes MAY not even be present but could also be caused by the used SB1240 soundcard
Sound evaluation.
Might it have been placebo or are there other things that didn't show up in these basic measurements.
Will have to compare it to the Fuze as well one of these days... see if that one is 'better' sounding.
Tried some other well made recordings and on direct comparison the differences were quite noticeable (wasn't able to get the levels the same though)
Next I 'recorded' the headphone out from both players on 96-24 and normalized both files so they play exactly as loud and can play though 1 DAC/amp without having to switch.
Differences were (almost) non-existent but still thought the X3 sounded slightly better though the tonal balance was now exactly the same.
That seemed to be a level difference issue but still sighted I thought I could tell them apart.
I made a playlist with 20 excerpts (where I thought I heard the differences the most) from both files 10 entries and put the player on random.
It now picks random file A or B.
Closed the eyes and pressed skip ... listened and then looked to see if I was correct.
Out of the 10 times I had all of them correctly so yes... most specs are largely the same yet sounding different.
If you (the reader) would like to hear the sonic differences between the players for yourself please let me know in this thread and I can upload the excerpts and tell what to look for.
I need to create some test files and perhaps use a scope to see how certain waveforms (squarewaves and needle pulses) differ and maybe some other things as well.
To be continued.
Needless top say this player sounds quite good, certainly suited for usage while exercising or non critical listening.
Wouldn't recommend it for hifi enjoyment although it does sound quite good for the price (around € 50.-)
Full RMAA reports of
Sansa Clip Sport
and
FiiO X3